Haus5 und Lab Facilities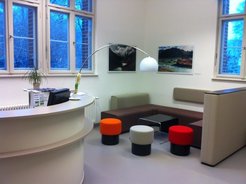 The social neuroscience lab is placed in a charming house, fondly known as "house5", located in a green park in the middle of Berlin at Charité Campus Nord of the Humboldt University. This small house has a reception room with a small kitchen, three office rooms, a multi-computer laboratory, a neuro-pharmacological laboratory and a seminar room. The vicinity to the Charite Hospital gives us the opportunity to recruit specific patient populations.
The big seminar room can also serve as an exercise room for mental training and meditation studies. House 5 was one of the main location for our subjects in Berlin that took part in the ReSource Project. Our multi-computer lab allows for psychological testing and the implementation of game-theoretical paradigms from behavioral economics to investigate interactive social behaviors.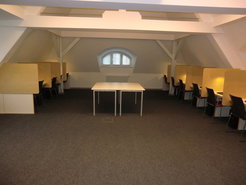 If you want to know more about the history of House5, please click here.